Roofing Services & Roofing Repairs

in Edinburgh, Midlothian, East Lothian & West Lothian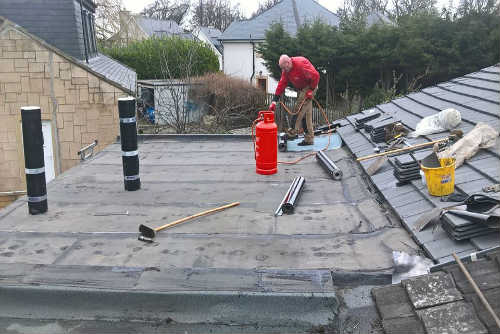 Flat Roofing Edinburgh
Are you in need of a flat roofing company?
Traditionally, residential flat roofs used two or more built up layers of bituminous felt for weatherproofing. More recently liquid applied systems like glass fibre have begun to become a more popular choice. Bitumen membranes systems though are still the most used and are of far better quality these days than decades gone by.
Mastic Asphalt is used occasionally however because it is so heavy, the roof support has to be strong enough to use this material.
Garage roofs don't have to be insulated but other parts of the home do to comply with building regulations. Stuart Hill Roofing Services has decades of experience fitting all these types of flat roofs. If your flat roof just needs a repair, Stuart the owner is happy to come out and give an inspection. You should then expect to receive a quote within a day or two. If it is an emergency, you should make this clear and Stuart Hill Roofing Services will prioritise the job and come out and secure the flat roof making sure it is water-proof.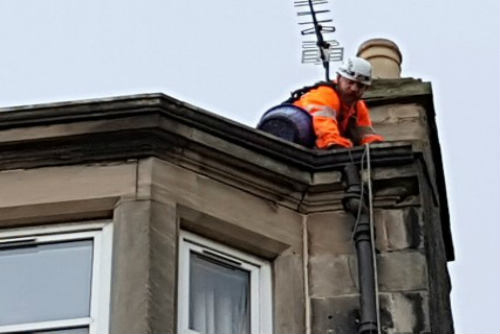 Rope Access Roofing
Stuart Hill Roofing Services offer specialist rope access roofing services to clients throughout Edinburgh.
We provide qualified tradesman skilled in roofing work, lead flashing repairs and stone masonry.
What are the benefits of Rope Access?
Versatility: Able to access any part of your roof in a safe and efficient manner. Among others, Rope Access can be applied safely to tenements, hotels and churches.
Cost Efficient: Using less manpower and avoiding the need for costly scaffolding means few costs which we pass on to you.
Time: Rope access allows us to get to parts of high buildings fast, avoiding the need for costly scaffolding which can take days to erect.
Environmental impact: Our specialised rope access technicians can maintain roofs without having to erect scaffolding and causing public inconvenience. This also avoids the need for high access equipment such as cherry pickers and there diesel fumes.
TIP: Rope Access becomes most effective when the price to access an area is disproportionate to the amount of work that needs to be carried out. Rope access systems can be set up and taken down in minutes compared to days for scaffolding. This equates to less disruption for neighbours,the public and traffic. Projects require less workmen and less equipment needed resulting in fewer costs and quick completion times.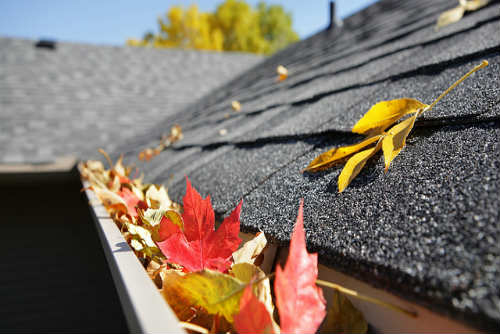 Guttering Repair & Replacement Edinburgh
Are you looking to get your guttering repaired or replaced? Give Stuart Hill Roofing Services a call. We can source and install all types of guttering in all shapes and sizes. We also carry out gutter maintenance on buildings as high as tenements using rope access. . Just call or email the office today for a quick quote. For gutter cleaning and gutter repairs we recommend Edinburgh Gutter Cleaning Company when we are busy.
Different types of guttering:
Cast iron look alike
OG guttering
Square guttering
Half round guttering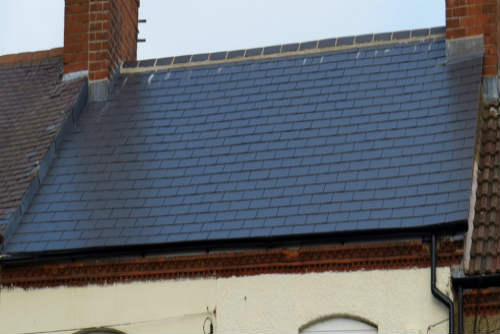 Roof Installations
Stuart Hill Roofing Services would be more than happy to provide you a quote for any roofing installations you need done. Using our 35 years experience as a roofing specialist.
We can install most types of roofs including:
New roofs – both domestic and commercial
Traditional slating and tiling
Detailed lead work
Installing roofing windows i.e. Velux
Roof repairs
Re-roofing work
GRP Flat roofs
We have full public liability insurance & full managed health and safety system in operation.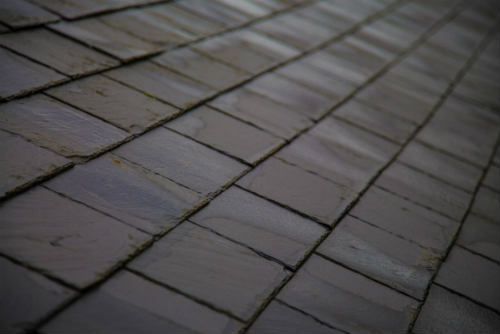 Slating & Leadwork Repairs Lothian
Lead sheet is one of the most durable roofing materials and has been used on roofs in Scotland for many a year.
Unfortunately the quality of the workmanship has not always been up to scratch and therefore some leadwork repairs are needing done before there time.
Stuart Hill Roofing Services have the right leadwork specialists in place to carry out the best leadwork repairs for you to make sure they stand the test of time.
Stuart Hill Roofing Services can source Scottish, Welsh or Spanish slates for all your slating needs.
Annual Roof Inspections
Its always easy to ignore what you cannot see on your roof, but it is better to be safe than sorry by having an annual inspection from a professional roofing contractor carried out. Prevent a large bill with arranging yearly maintenance checks on your roof. We advise that all roofs should be monitored on an annual basis as something as simple as a blocked down-pipe or gutters can cause (expensive to repair)internal damage.
As well as roofing services and roofing repairs we can also supply and install pigeon guards in Edinburgh, Lothian.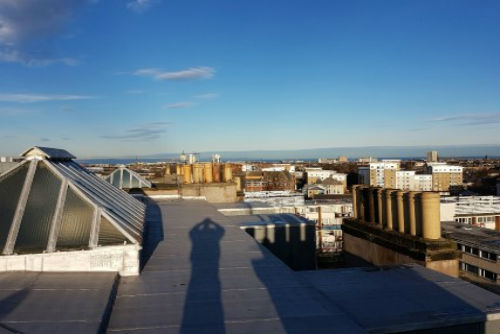 Tenement Roofing Repairs
Tenements otherwise known as multiple occupied buildings make up a large percentage of the housing stock in Edinburgh and Glasgow. They were originally built for the working class flocking to the newly industrialised cities in the 19th and early 20th centuries.
Edinburgh's tenements are the oldest though some built in the 17th century where they reached 15 storeys high making them amongst the most tallest dwellings in the world at the time.
These magnificent buildings have contributed to Edinburgh holding status as a world heritage site, however! Edinburgh is in danger of losing its world heritage status due to the lack of maintenance being carried out in the capital. Edinburgh World Heritage in an article on the bbc website warned the Edinburgh's World Heritage status is under threat due to the state of some of its iconic historical buildings. A survey was carried out on 202 buildings in the centre of the city.
It found 72% (147 buildings) were in need of some sort of repair and most were privately owned tenements. Issues included things like rotten window frames, gutters block by vegetation and leaves and damaged stonework.
Edinburgh World Heritage said lack of attention to basic building maintenance and "complacency" were putting the city's Unesco status at risk.
It mentioned poorly maintained buildings were as much of a threat as inappropriate new developments.
The old and new town in the city are amongst six world heritage sites in Scotland and have held Unesco status since 1995.
Adam Wilkinson, director of Edinburgh World Heritage, said: "We often think of inappropriate new development as the major threat to our World Heritage site – but the complacency that leads to poor building maintenance is an equal threat.