Pigeon Guards

in Edinburgh, Midlothian, East Lothian & West Lothian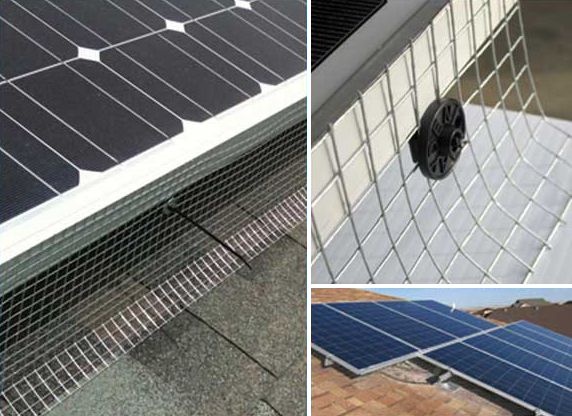 Solar Panel Bird Protection Edinburgh
Stop Birds Nesting Under your Solar Panels
Stuart Hill Roofing Services offers a bespoke one-stop Pigeon Proofing Solar Panels service with a 10-year guaranteed proofing of solar panels against pigeons, birds, rats and squirrels.
Pigeons nesting under solar panels are a major problem on a national scale. What you don't think about before you install the panels, is that the necessary gap between your solar panels and the roof has created a delightful, cosy, protected and sheltered area for nesting birds, and pigeons in particular, exactly where they like it – high up and difficult to access!
Over time the activity of the birds can and will damage the panels and fittings, you will of course see a significant build-up of corrosive pigeon mess on the panels and under them. This pigeon mess is actually linked to three diseases that humans can contract, these are histoplasmosis, psittacosis and cryptococcosis although it is unlikely to contract these diseases there is still a risk. The pigeon mess can also result in biting bird mites – associated with their nests – entering your property, which is an expensive and awkward problem to deal with effectively.
And then there of course is the noise they make, which can drive even the calmest of us to distraction! The obvious and easiest solution is to stop pigeons getting under your solar panels permanently by installing a pigeon proofing system.
Solar Panel Pigeon Proofing Service
Here at Stuart Hill Roofing Services we offer a service to install a solar panel pigeon proofing system within Edinburgh and the Lothians. We are now able to offer a bespoke and one-stop solar panel bird protection service which includes 10-year guaranteed proofing of solar panels against pigeons.
Our process includes the use of a specialist solar panel pigeon mesh produced from a tough-but-pliable, weather-proof galvanised wire sourced here in the UK, which not only offers solar panel proofing against pigeons, but also against all other birds and rodents like squirrels and rats.
We are able to offer you a free quotation within a short period, following an initial phone consultation then a visit to your property arranged at a convenient time to yourself. The cost of this solar panel bird protection is based around the number of solar panels you have, where they are, and an assessment of the safe access, which is also carried out on your property on the day of your appointment.
As well as pigeon guards we also offer other roofing services and roof repair in Edinburgh & The Lothians